Self Promo Ideas & Inspiration
Case studies, ideas, and tips for distributor self promos
You spend a lot of time helping your clients promote their business, service, product, or event. But what have you done lately for your business? We want to help you promote your business. Get ideas on how you can use custom branded giveaways from Warwick to build your brand and your business.
IDEA
Meet me for coffee
Use gift card holders as giveaways while you prospetfor new leads or referrals, or use them to boost sales from existing clients.
Buy your prospects a cup of coffee ($5 gift card) and offer to meet them for 30 minutes at a local café to chat about how you can help them grow business with a creative promotion.
Personalize the gift card holders with your on branding and contact info for a nice leave behind. Alternately, you can slip them into a holiday card for mailing.
Product shown: Item #2002 | Pocket Card Holders
Gift card holder overview:
Printed in full color on front cover, back cover, pocket, and inside panel
Made out of sturdy 14 pt. smooth white paper stock
Pocket keeps gift card nice and snug
---
IDEA
Help Them Organize Their Ideas
In a meeting with your client? Give them a flip pad notebook to keep notes of the ideas you're pitching. Lots of room for full-color branding, plus plenty of space for contact info and social media icons.
Not sure what size will work best for your clients? Consider your audience. Will they want something more visible and easy to find at their desk? The FP57 is the larger notepad option (5" x 7-3/4"). Or would they prefer something more on-the-go that easily fits in a purse or pocket? The FP35 measures just 3" x 5" (smaller than your phone) and easily fits wherever they need to store it.
Product shown: Item FP35 | 3" x 5" Flip Pad Jotter
Flip pad jotter overview:
Printed in full color on front cover, back cover, and top panel
Notepad has 30 perfectly perforate pages
Personalize the pad! Custom options available (additional charges may apply)
---
IDEA
Give Their Photos a Home
How many times have you met a client in their office and seen their personal photos tacked to a board, hanging by magents, or precariously propped up on a shelf? Nest time you meet a client with a photo collection like that, go into your meeting prepared with self-branded picture frames.
Consider sturdy, 4" x 6" mat board frames imprinted with your logo. It's an inexpensive giveaway that solves a problem for them and creates better brand visibility for you.
Product shown: Item 452 | 4" x 6" Bevel Photo Frame
Bevel photo frame overview:
Available in 8 classic colors
Easel back and hanging tabs—display on a shelf or on the wall
Accommodates horizontal or vertical photos
---
IDEA
Give a Talk, Give a Handout
Want to really get the word out about your business to local professionals? Put together a short 10- or 20-minute presentation for your local chamber of commerce group, networking meetup group, or business expo.
For the presentation, explain what you do as a promotional marketing consultant. But more importatntly, give your audience valuable marketing tips and strategies, along with some case studies about successful promo campaigns you've led with past clients. Tailer the presentation to your audience, giving specific, actionable examples that would suit their niche market or vertical.
For the selp promotion, consider handing out branded padfolios with pen holders. Since you are handing out padfolios meant for note-taking during your presentation, give them to the attendees before the talk.
Product shown: Item 926 | Digital Print Mini Padfolio with Pen Holder
Printed padfolio overview:
Printed in full color on the front cover, back cover, and folio flap
White 20-page lined pad
Folio flap holds a horizontal business card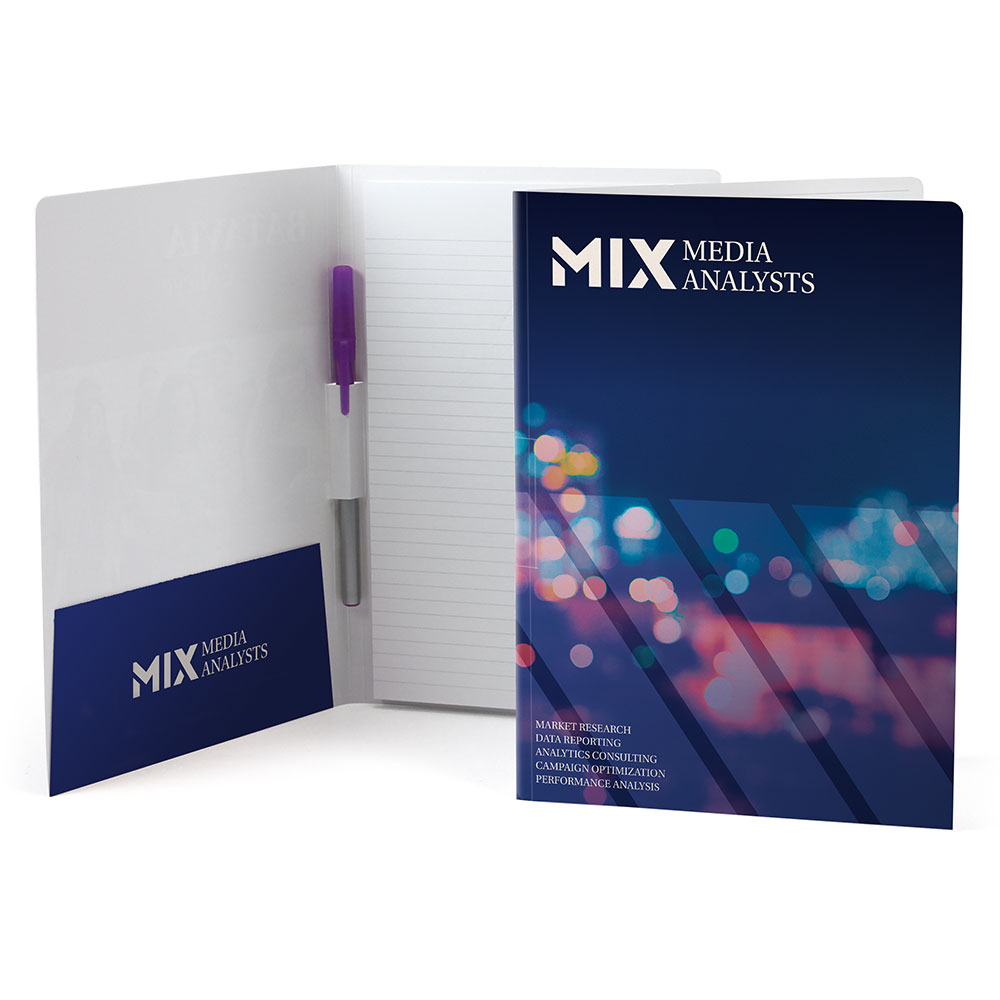 ---
IDEA
It's All About the Value
Convey to your clients your value as a promotional consultant, that what you do for them is more than just selling branded merch with their logo.
Personalize a Value Stick calendar with your logo and contact info. Want to push the value of this branded item? Consider adding a line that reads, "It costs just 5¢ per month to advertise with thie calendar."
Mail these calendars with Christmas cards, separately, or hand out at your year-end meetings, trade shows, or expos.
Product shown: Item 602 | Traditional Value Stick Calendar
Value Stick calendars overview:
7 classic vinyl color options
Standard calendar pad has 13 months (starts in December)
Come in a convenient counter display box
---
IDEA
Give Greeting Cards for Any Occasion
Holiday Cards: These year-end self-promo greeting cards are not only a great way to wish customers well, but they provide a fantastic opportunity to thank them for their valued business. It also keeps your services top-of-mind through the holiday season.
Custom Cards: Consider co-branding with a local non-profit. This not only helps the non-profit save some advertising money, but it also can also help raise awareness for an upcoming fundraiser, solicit donations, and keep your services top-of-mind. You can either add your logo, branding, and contact info, or you can add a promo code or limited-time offer for a free 30-minute marketing consultation. If you offer a free consultation, convey urgency by adding a deadline that expires within 2–3 weeks of mailing the promo.
Birthday Cards: Send these to your existing customers each and every year. But you could turn this into a fun cold-call alternative! Even if it's not the recipient's birthday, it's a way to get your foot in the door and catch their attention.
Congratulations Cards: Congratulate them on winning a free 30-minute marketing consultation for their business, complete with your phone number and a unique URL to book their appointment.
Product shown: Item 4035 | Multi Color Birthday Wish
---